Film Festival in "Bangladesh Fair" 20 April 2008, Perth WA
You are cordially invited to our War of Liberation Film Festival Show in Perth.
---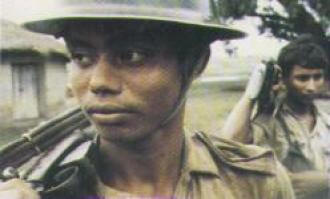 ITIHASH KOTHA KOI
On the occasion of past independence day of Bangladesh a series of film festival has been organised by the Ouderland Memorial Committee in Australia. Feature films and documentaries on our liberation war are now periodically screening in various cities of Australia. The objective of the festival is to honour the gallant freedom fighters and also to project the great history of our people's war of liberation to our community and to our Australian friends, who had supported our just independence.
Mr.Ouderland was awarded Birpratik, who had risked his life to organise and participate in the armed guerrilla war for our liberation. We salute him along with all our freedom fighters and our freedom loving people.
Thankfully the Bangladesh Association of Western Australia kindly and warmly supported the spirit of this festival in Perth.
The title of the first film in Perth MUKTIR GAN Time: 3pm Venue: Bangladesh Fair 2008 at Manning Park Date: 20 April 2008, Sunday
The film shows all are free of cost.
Dr. Mokhdum Azam Mushrafi, Convenor Ouderland Meorial Committee, Perth Chapter
Proudly supported by media partner PriyoAustralia.com.au
---
Perth Australia, 18th April 2008